So Björk recently decided to release the sheet music for 34 of her illustrious compositions, and today shares her thoughts on what, who, and why:
in the autumn of 2009 i sat down and wanted to decipher and reevaluate what musical education meant to me. the frustrated musicologist in me went ahead and completed the educational biophilia which since has been taught all around the world and is now a permanent part of the scandinavian curriculum
i also wanted to question how i felt about musical documentation, when cds were slowly becoming obsolete, i was curious about the difference of midi (digital notation) and classical notation and enthusiastic in blurring the lines and at which occasions and how one would share music in these new times. what is the difference of karaoke and the lyrical recitals of the 19th century? can one meet at bonfires and sing techno songs? (well icelanders do obvs) maybe i should share digital notation that people could connect to their synths or do harpsichord versions of electronic beats to enjoy in the living rooms and hopefully families singalong to
100 years ago most music was shared through scores, does that even apply to today? and if so how?
from these questions i started working with jónas sen on gathering together my string, choir, vocal and brass arrangements through the years and arranging them for different keyboards such as organs, pianos, celestas and harpsichords.
i also talked to my longtime collaborators m/m and asked them to design a font for notes in the same way they would for letters. that of course became technically almost impossible but we believe we have now somehow found a program were everyone can design their own fonts to align gracefully to their music
and last but not least: as a soft feminist stance i decided to put importance on my arrangements through the years (i feel still today most people are not aware that i have done the majority of the choir, brass, string and vocal arrangements myself through the years) by doing concerts where we have transformed all these arrangements over to strings to emphasize that part of my work. so far we have played albert hall, harpa hall in reykjavík, the auditorio in mexico city and will be playing the disney hall on the 30th of may. and i will be singing on top
i hope you like it
warmthness
björk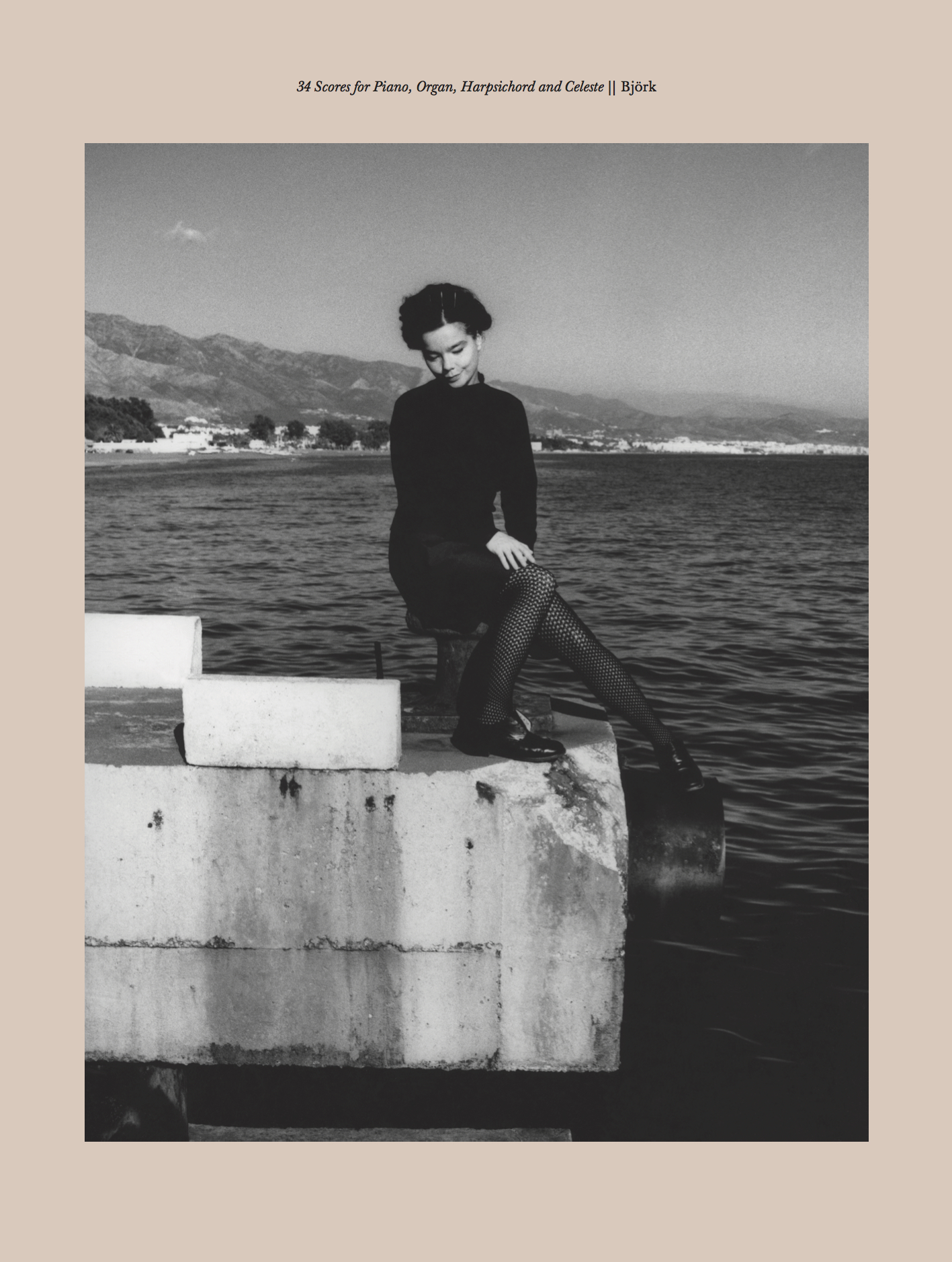 On June 5, the award-winning Icelandic artist will publish 34 Scores for Piano, Organ, Harpsichord and Celeste with Wise Publications, the result of an effort that stretches back to 2009's Biophilia album and multimedia effort. (On May 19, the book will be available early—exclusively at the Björk Digital exhibition in LA.) Longtime collaborator Jónas Sen was tapped to assist in the effort. He explains, "There are three levels to these keyboard arrangements. In one we simply transcribed the songs from the original to the keyboard. In the next level we arranged them so they sound different from the originals, yet convincing for the keyboard instrument in question. On the third level the songs are radically different from the original, almost like they are new compositions."
For the accompanying notes, French design house M/M (Paris) was asked to create a new font, and it has all been put together by Notengrafik Berlin.
Björk also today debuts the track list for 34 Scores for Piano, Organ, Harpsichord and Celeste, which spans her debut album all the way through her most recent release, Vulnicura. Check it out below:
The Anchor Song – Debut Sun In My Mouth – Vespertine Venus As A Boy – Debut Desired Constellation – Medúlla Cover Me – Post Oceania – Medúlla Isobel – Post Pleasure Is All Mine – Medúlla Bachelorette – Homogenic Where Is The Line – Medúlla Immature – Homogenic Gratitude – Drawing Restraint 9 OST Joga – Homogenic Declare Independence – Volta Notget – Vulnicura The Dull Flame Of Desire – Volta Unravel – Homogenic My Juvenile – Volta I've Seen It All – Selmasongs Pneumonia – Volta New World – Selmasongs Vertebrae by Vertebrae – Volta Aurora – Vespertine Atom Dance – Vulnicura Mother Heroic – B-Side to 'Hidden Place' Black Lake – Vulnicura Vespertine Stonemilker – Vulnicura Pagan Poetry – Vespertine
Watch the most recent music video from Vulnicura, "Notget VR," above, and click here to see more of Creators' ongoing Björk coverage. Pre-orders for 34 Scores for Piano, Organ, Harpsichord and Celeste are available here, but the book will be available starting May 19 exclusively at the Björk Digital exhibition in LA.
Björk Teases Visuals from Virtual Reality Film 'Family'
Public Art by Björk, JR, and Yoko Ono Comes to Moscow
Björk's VR Exhibition Explores Her Fascination with Digital Worlds
How Björk's Mask Was 3D-Printed from Her Own Face
https://creators.vice.com/en_us/article/bjork-just-explained-why-shes-releasing-a-book-of-sheet-music
On – 16 May, 2017 By